Awards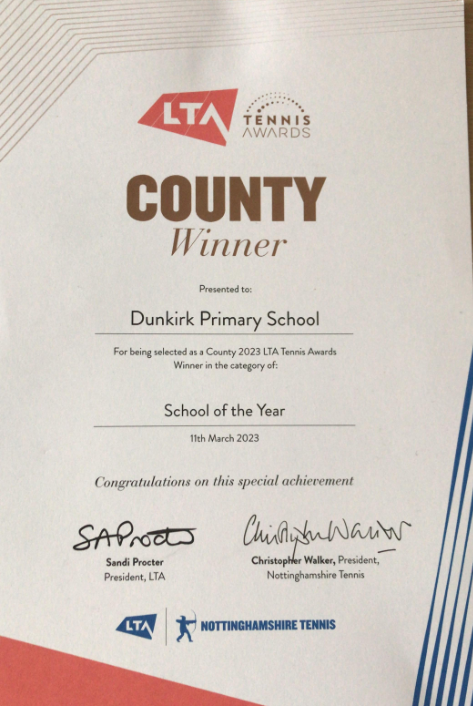 Dunkirk has been selected as the LTA Tennis Awards School of the Year 2023!
This prestigious award was presented to us earlier today and is a result of the FANTASTIC behaviour and attitude of those children (see the second photo) who go to the weekly after school Tennis Club at the Nottingham Tennis Centre with Mr. Brown.
A HUGE THANK YOU to all those children and the staff who have made this happen; they really deserve this award.
We are very PROUD of them all!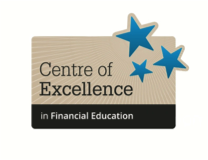 Dunkirk is a Centre of Excellence in Financial Education has embraced financial education, embedding it in our curriculum and involving the local community.
As a Centre of Excellence we have and continue to ensure that financial education integrated into our curriculum so that:
* All our pupils experience lessons and activities in this area
* There is on-going assessment
* Pupils build their financial capability as they move up the school.
We already provide opportunities for our children to understand, appreciate and be part of the diverse society in which we live. Helping them to become financially capable is also part of supporting them to meet these challenges and to thrive. We want to start the process which will result in them leaving school with knowledge, skills and confidence to be able to make informed and independent financial decisions.
The learning journey the children take ensures that learning about money is taught not just as stand-alone lesson within maths sessions, but as an important life lesson throughout school.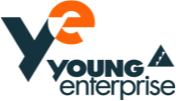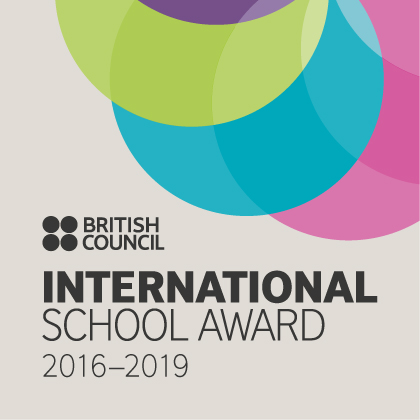 Mrs Qureshi and Mr Brooks went to The British Council award ceremony to receive Dunkirk's 5th consecutive International School Award.
The International School Award celebrates the achievements of schools that do exceptional work in international education. Fostering an international dimension in the curriculum is at the heart of the award, so that young people gain the cultural understanding and skills they need for life work in today's world.
Dunkirk's international work includes working alongside our link schools in Pakistan and Finland on Big Global Questions that link to the whole school theme such as Journeys.
International dimensions and perspectives are an integral part of all the teaching and learning at Dunkirk.
Sir Ciarán Devane, CEO of the British Council, said: 'The school's fantastic international work has rightfully earned it this prestigious award. The International School Award is a great chance for schools to demonstrate the important work they're doing to bring the world into their classrooms. Embedding an international dimension in children's education ensures that they are truly global citizens and helps prepare them for successful lives and careers in an increasingly global economy.'
Dunkirk was the only school at the award ceremony to have won the award more than 3 times. Congratulations to all the pupils, staff and parents/carers who have worked hard to achieve this amazing accreditation. Thanks to Mrs Qureshi, our International Coordinator for coordinating all our international work at school.
Latest Ofsted Report
Governors and staff are very pleased with the outcome at this half-way point of the school's rapid expansion. The inspection team recognised the complex characteristics of our school and why the published data can never accurately explain our children's attainment and progress. Some real strengths have been acknowledged which affirms the priority we give to these.
The inspection framework is different and less flexible than three years ago, making it more difficult for schools such as ours to gain "outstanding." This is because it takes little account of children's different starting points, especially the fact that we have children on roll speaking forty six languages, with the majority arriving speaking little or no English. This means that although Ofsted has confirmed our children make at least good and often outstanding progress across all ages and groups, this no longer fulfils the criteria for an "outstanding" judgement. Comparisons have to be made to national attainment and for our school this is significantly affected by the numbers who have English as an additional language as well as the significant high pupil turnover (22% in two terms this academic year), mainly due to families returning home overseas and the fact that Nottingham City still have large numbers of children without school places who continue to be admitted to our school.
The school is exactly where we expected it to be at this stage of the rapid expansion and observations included 71% of teachers new to the school during the last two years. I know from your positive questionnaire and verbal responses that you share our belief that children receive a high quality education and are at the centre of everything we do. We are encouraged by the positive comments in the report and this places the school in a very strong position moving forward with a new leadership team who Ofsted have affirmed have the capacity to take the school on its next journey of success, as the expansion is completed in three years' time.
Dr Andrew Bennett, Chair of Governors said: "Governors are pleased with the inspection report which highlights many of the strengths we have at Dunkirk. The school will always strive to be outstanding, but at this stage in our rapid expansion, a rating of good is in itself a fantastic achievement that reflects the hard work and dedication of all our staff. We would also particularly like to thank all our children and their families for the support they give to the school and the wonderful impression they have clearly made upon the inspection team."
Dunkirk Primary Ofsted Report 2015
---
Healthy School Award
Dunkirk Primary has taken active steps to support the health and wellbeing of its pupils, and has received the Healthy Schools Award in recognition of this work. A healthy and balanced diet can make a huge difference to the development of a child, and through a plan which emphasises a healthy diet, as well as an awareness of healthy eating Dunkirk Primary continues to ensure their pupils are at their best!
---
Artsmark Silver Award
Artsmark is the national programme that enables schools to evaluate, celebrate and strengthen a quality arts offer. Dunkirk Primary has been awarded the Artsmark Silver award through ensuring that every child has the opportunity to experience the richness of the arts, by delivering rich and high quality arts provisions.