Madrono Class Blog Page
Volcanoes 2
We have been doing some more work around our volcano topic this week. We have painted our models and have drawn pictures to illustrate a text description of the eruption of Vesuvius and the destruction of Pompeii.
Have a look below.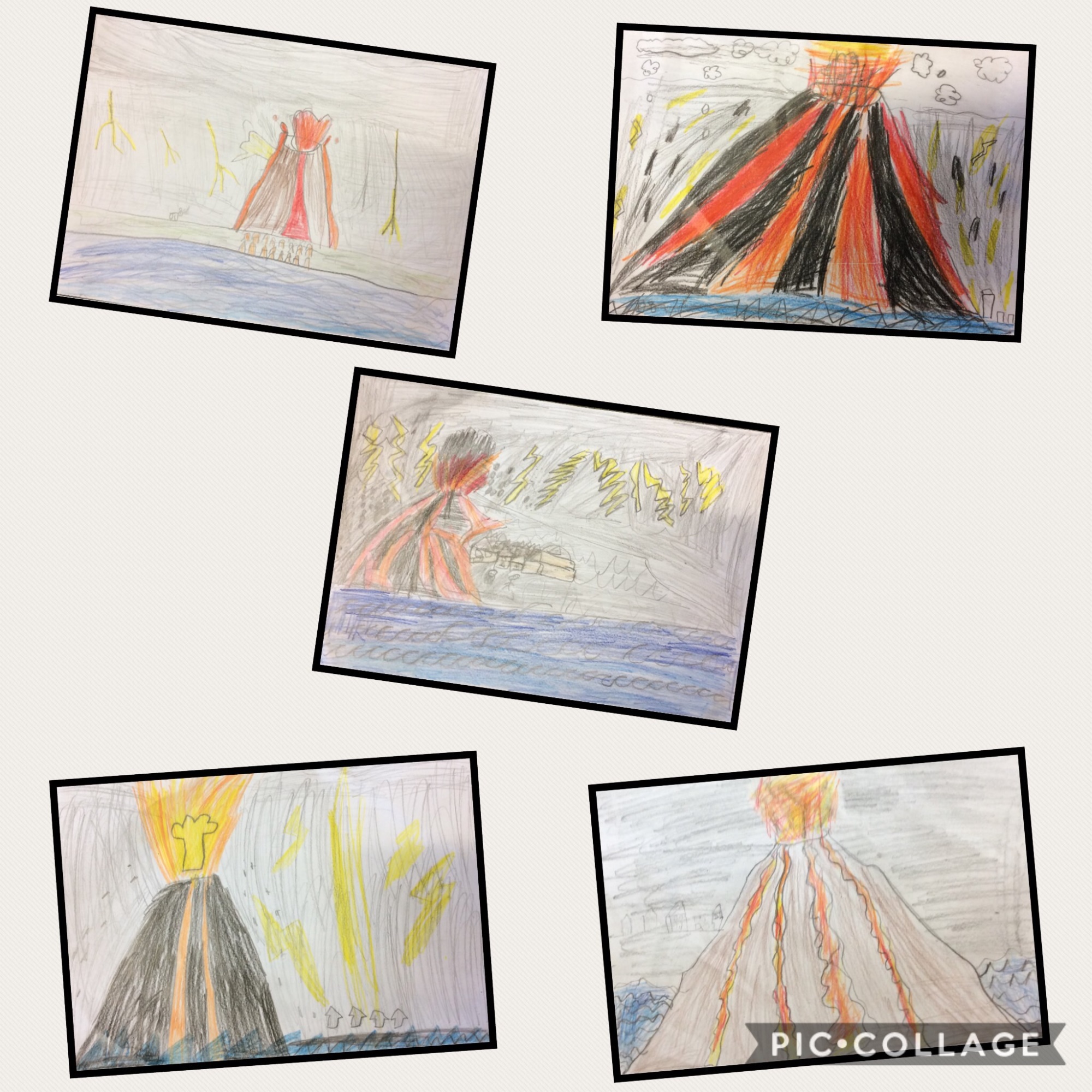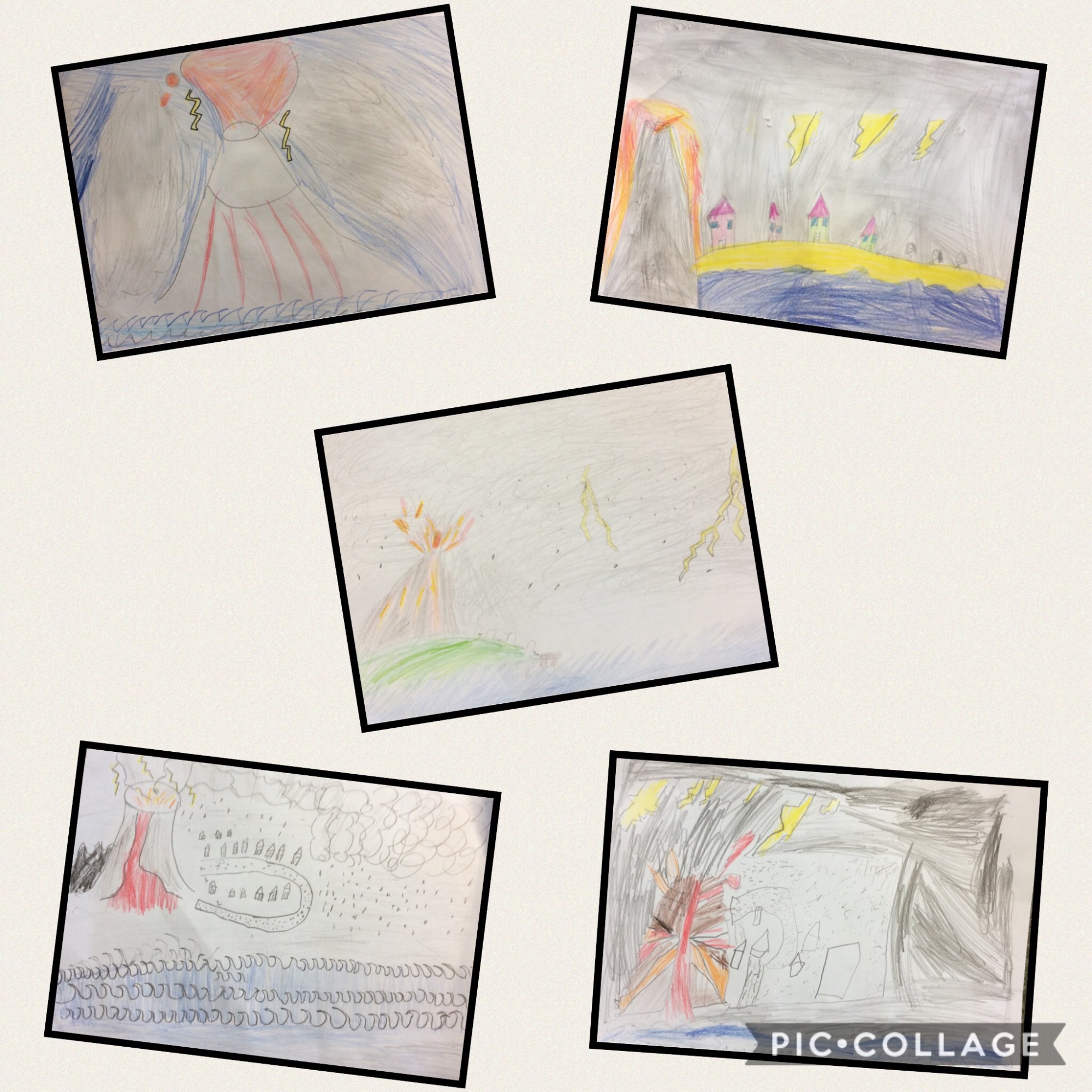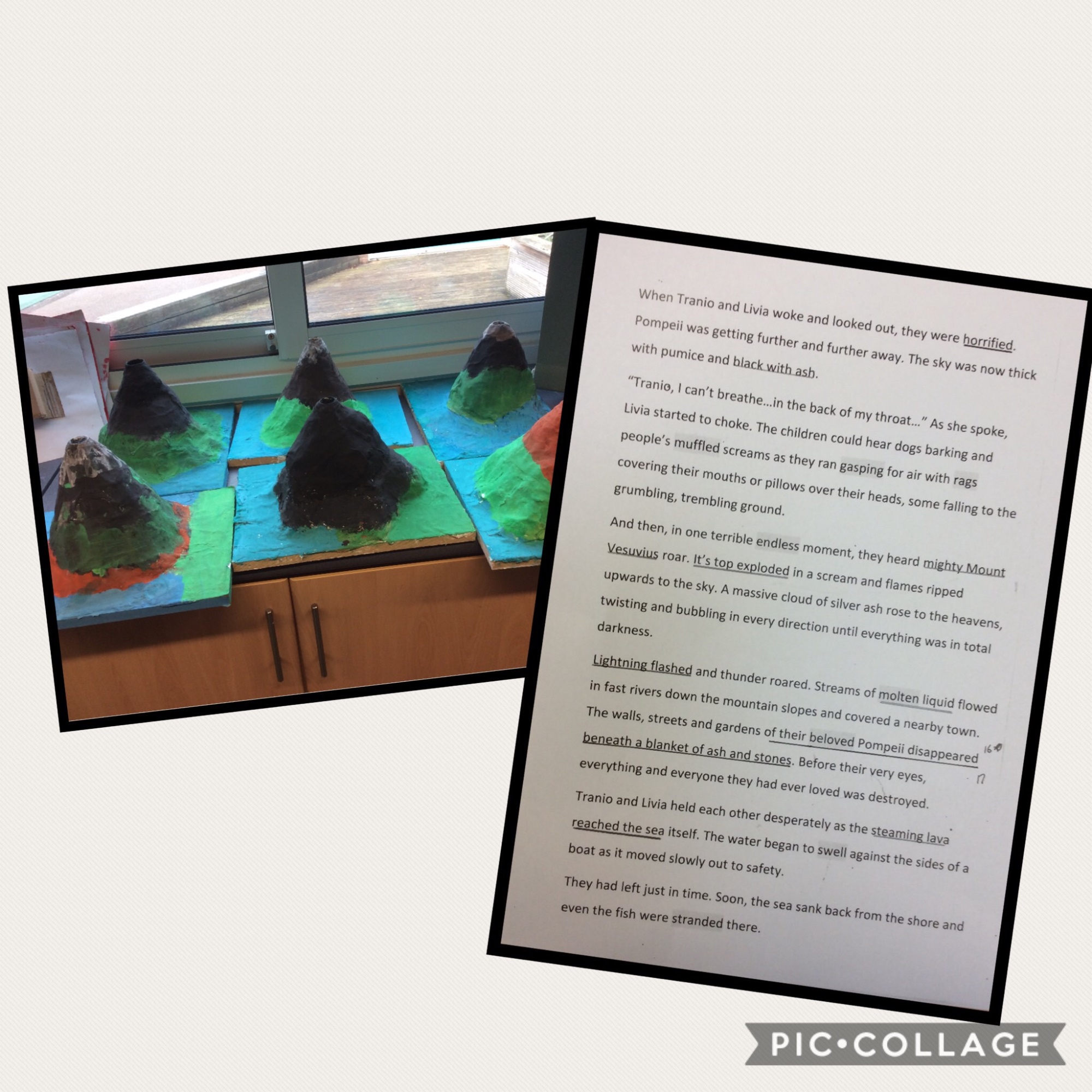 Volcanoes
We have been learning about mighty Mount Vesuvius and all about volcanoes. We have been reading a story about two children called Livia and Tranio who escaped from Pompeii in a boat.We have been writing our own story based on their experiences.
We have enjoyed making volcanoes out of plastic bottles and mod roc. We are going to paint them and then we are going to make it erupt by adding vinegar and bicarbonate of soda.
Watch this space!
Favour
Where The Wild Things are!
Each week we go to Bestwood Park. We make bows and arrows, keyrings out of wood that we saw up ourselves, we explore the woods and sit around a fire and drink hot chocolate or hot juice.
Wateen
I like making bows and arrows because they are fun to make and play with. Next week we are going to light a fire to make food on. We are going to make popcorn and toast and maybe even halal marsh mallows.
Omar
Next week I want to shoot my bow and arrow at a tin can. I want to go on the tree swing and go higher and higher and higher. We are going to eat toast and popcorn around the fire which we are going to light.
Yazeed
I enjoyed hiding whilst the others were finding us. We made a trail out of arrows made out of sticks and sand for the others to find us. it was fun.
Amaan
I want to finish my bow and arrow and I want to do exploring. I want to find rocks and go up high on the swing.
Divine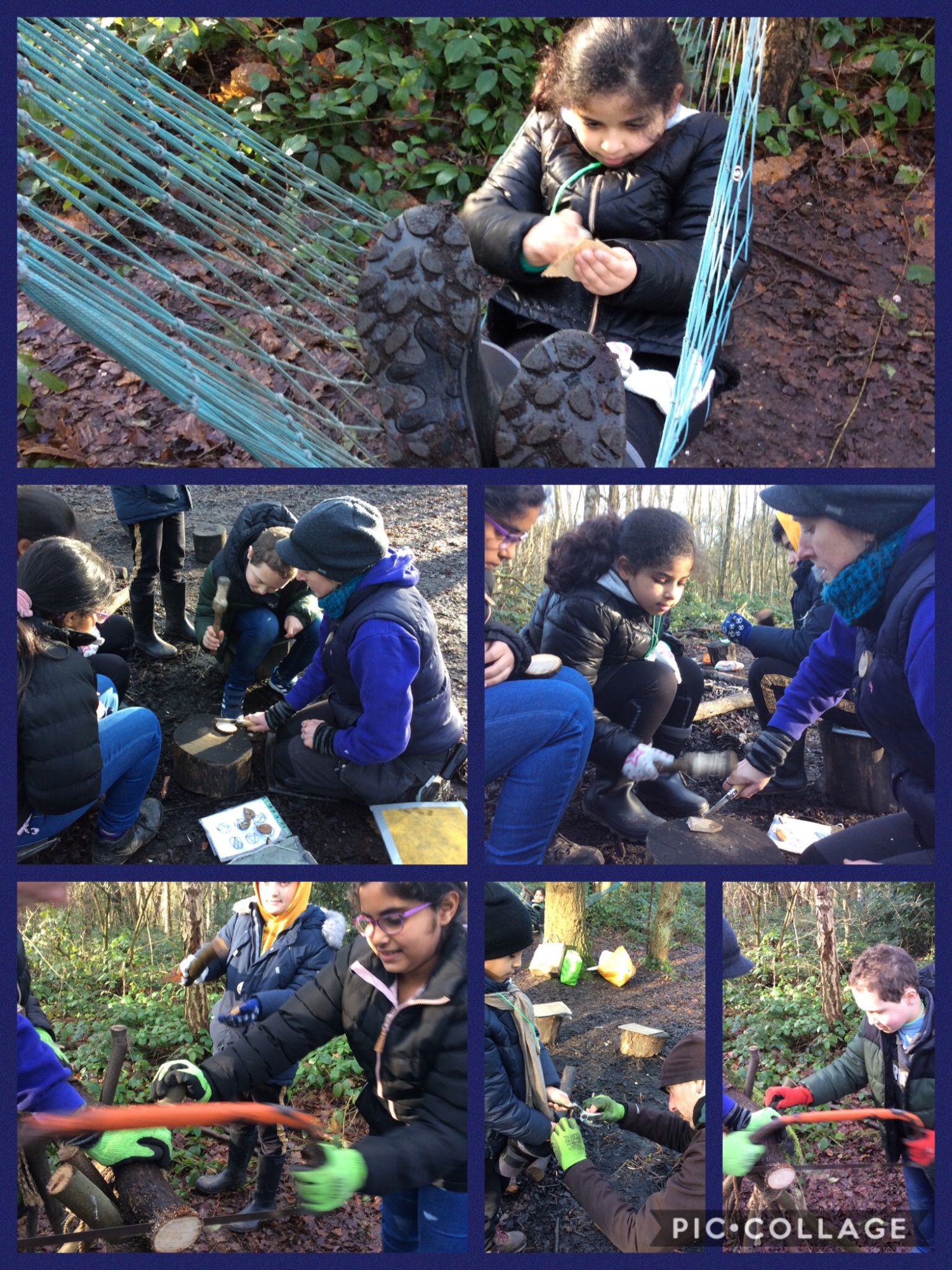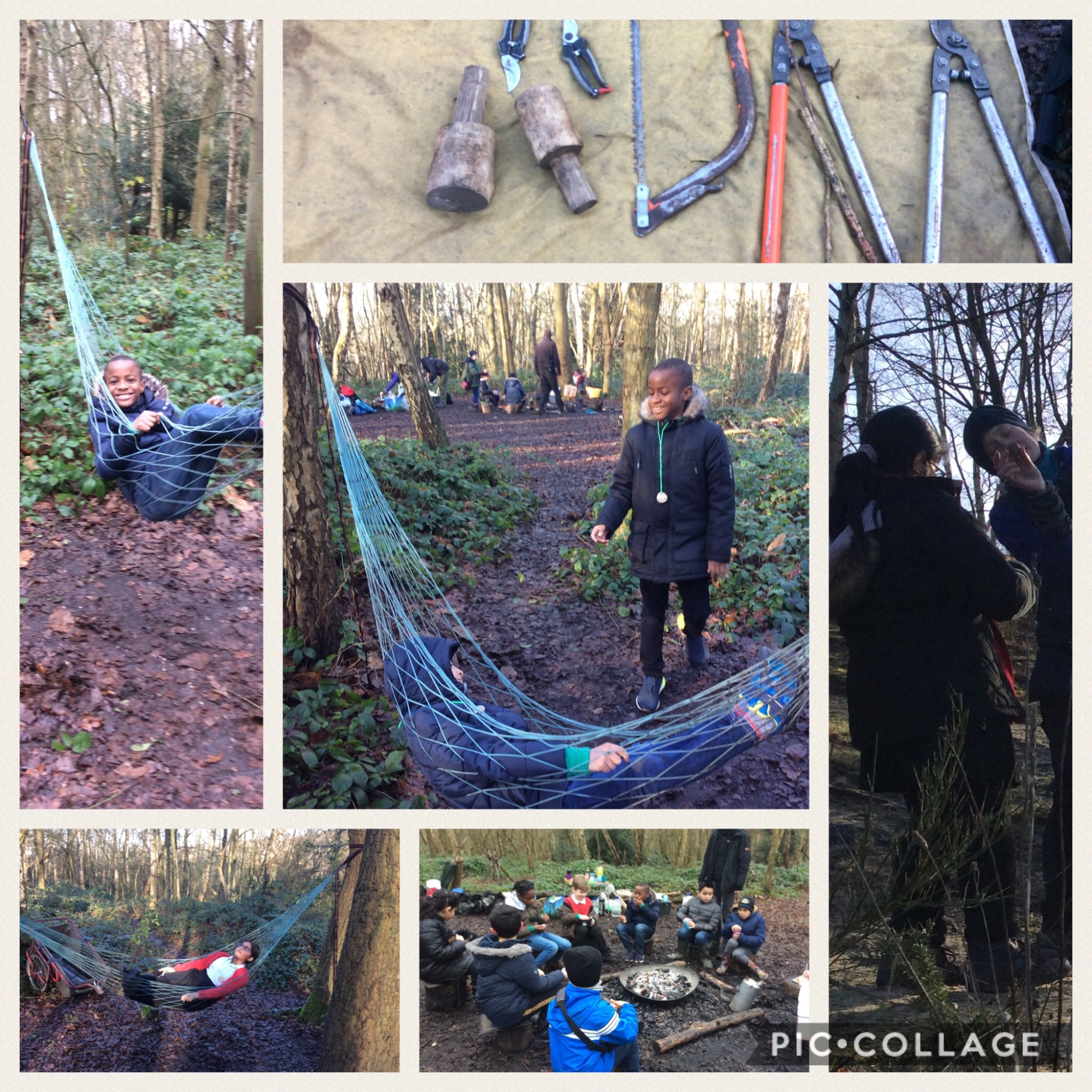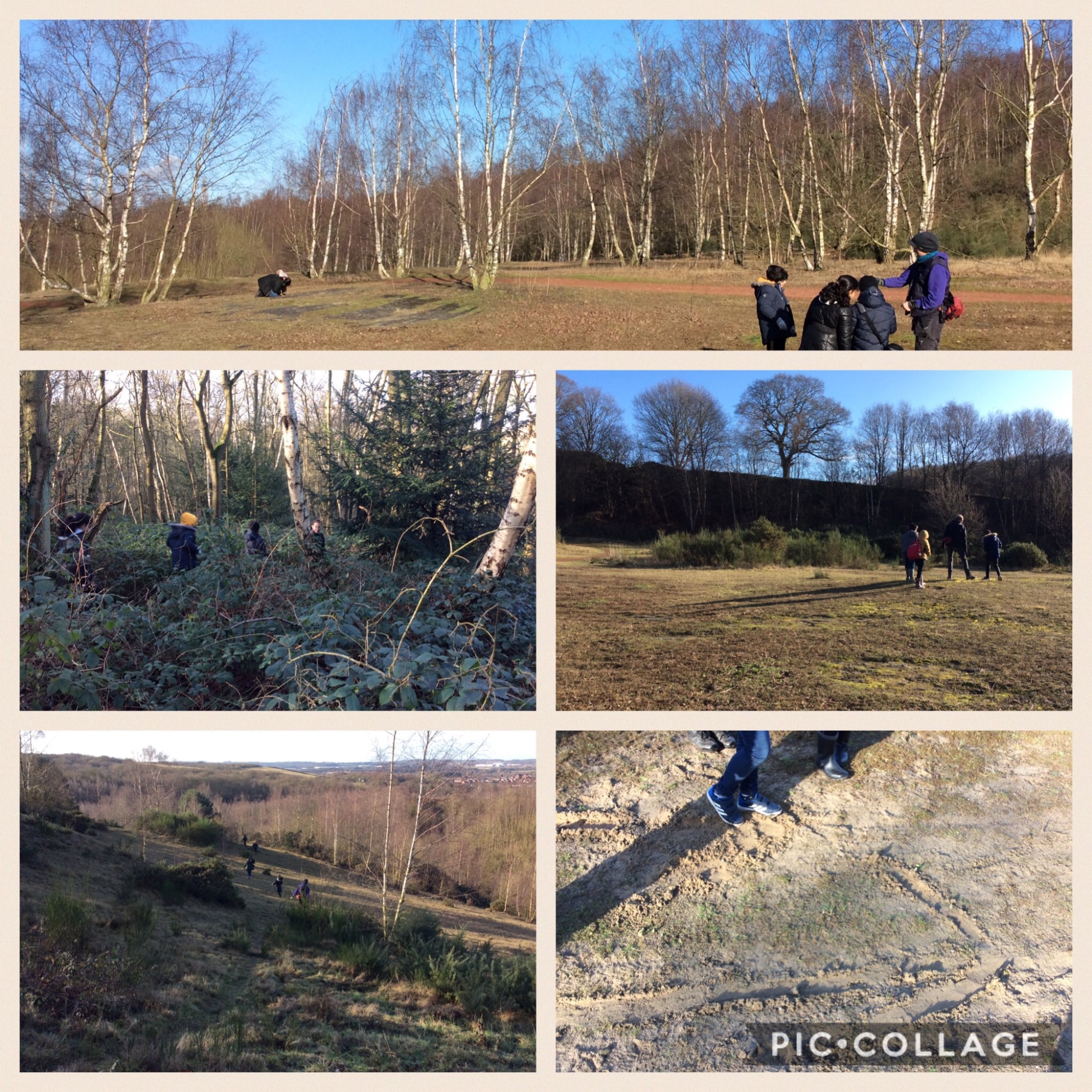 We are all very dramatic in Madrono Class!
This half term we are studying volcanoes. We are reading the book 'Escape from Pompeii' which is all about the eruption of Vesuvius on 24th August AD 79.
How's that for a fact!
Livia and Tranio are two children in the book who watch the volcano erupt and their home city get destroyed.
They escape from Pompeii in a boat and watch it all happen from the sea.
In groups, we acted out how Livia and Tranio felt as they looked at their beloved town get covered in a blanket of ash, lava and deadly, poisonous gas.
By Mohammed and Zuzanna.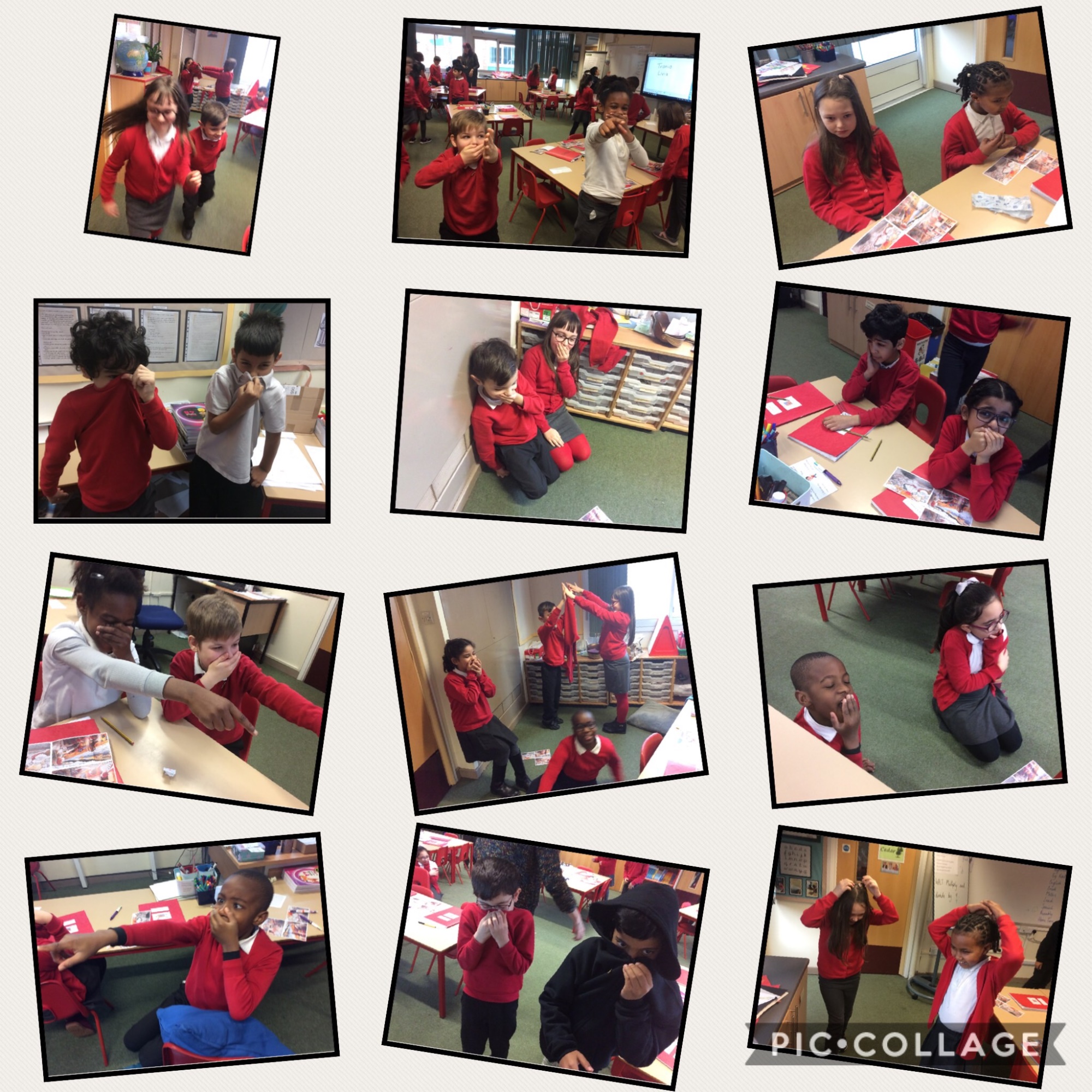 The Performance!
So, it's the day of the show and some of us were feeling very nervous and shy. Some of us had butterflies in our stomachs. Some of us were feeling pretty confident.
We walked into the hall and saw all of the parents there and I thought, "Something is going to go wrong!"
I heard all the babies and thought to myself, "How will everyone hear us?"
However, it went amazingly well and every one remembered their lines and what to do.
We all loved the applause when we finished our song.
Reema and Subhan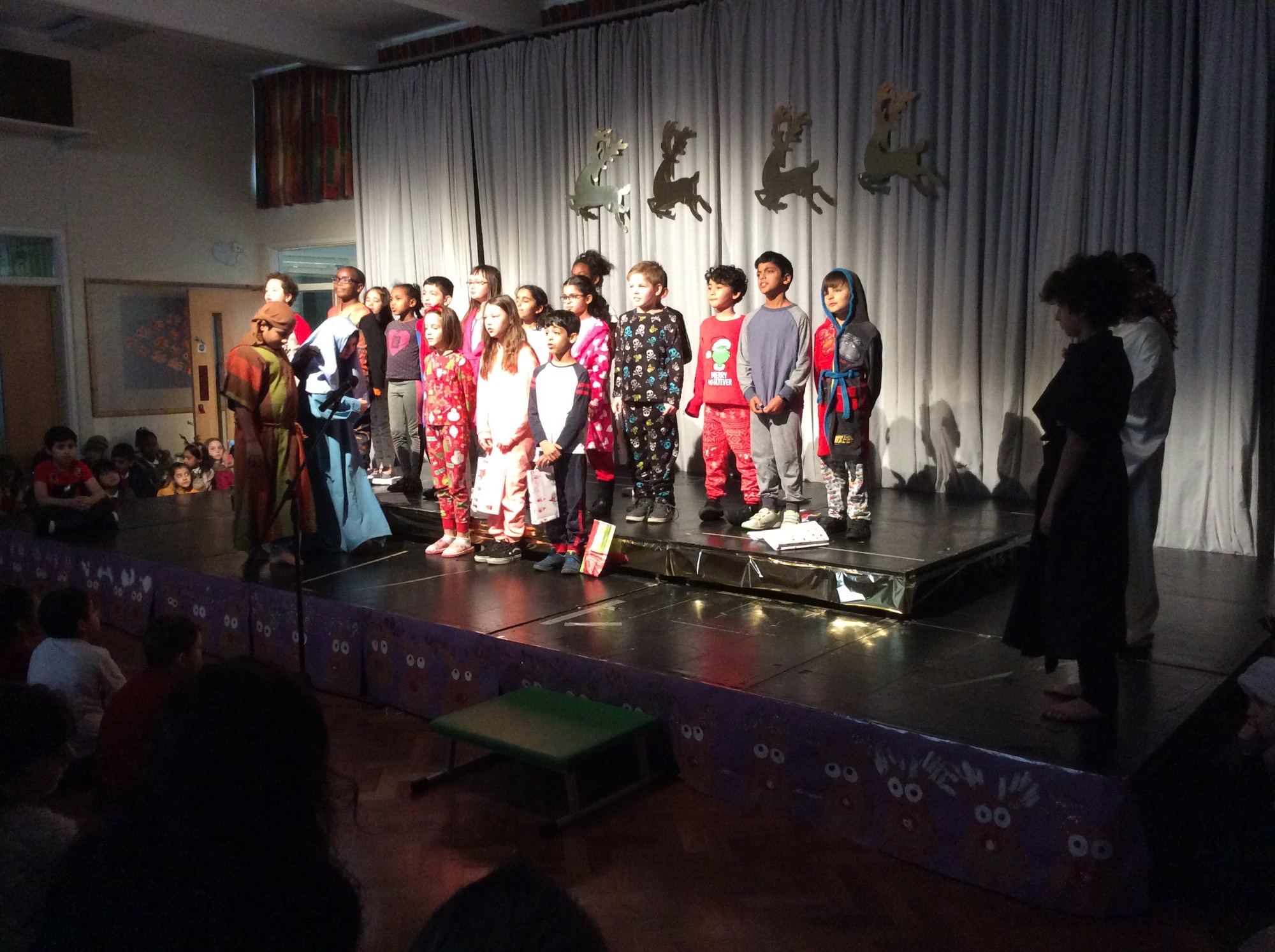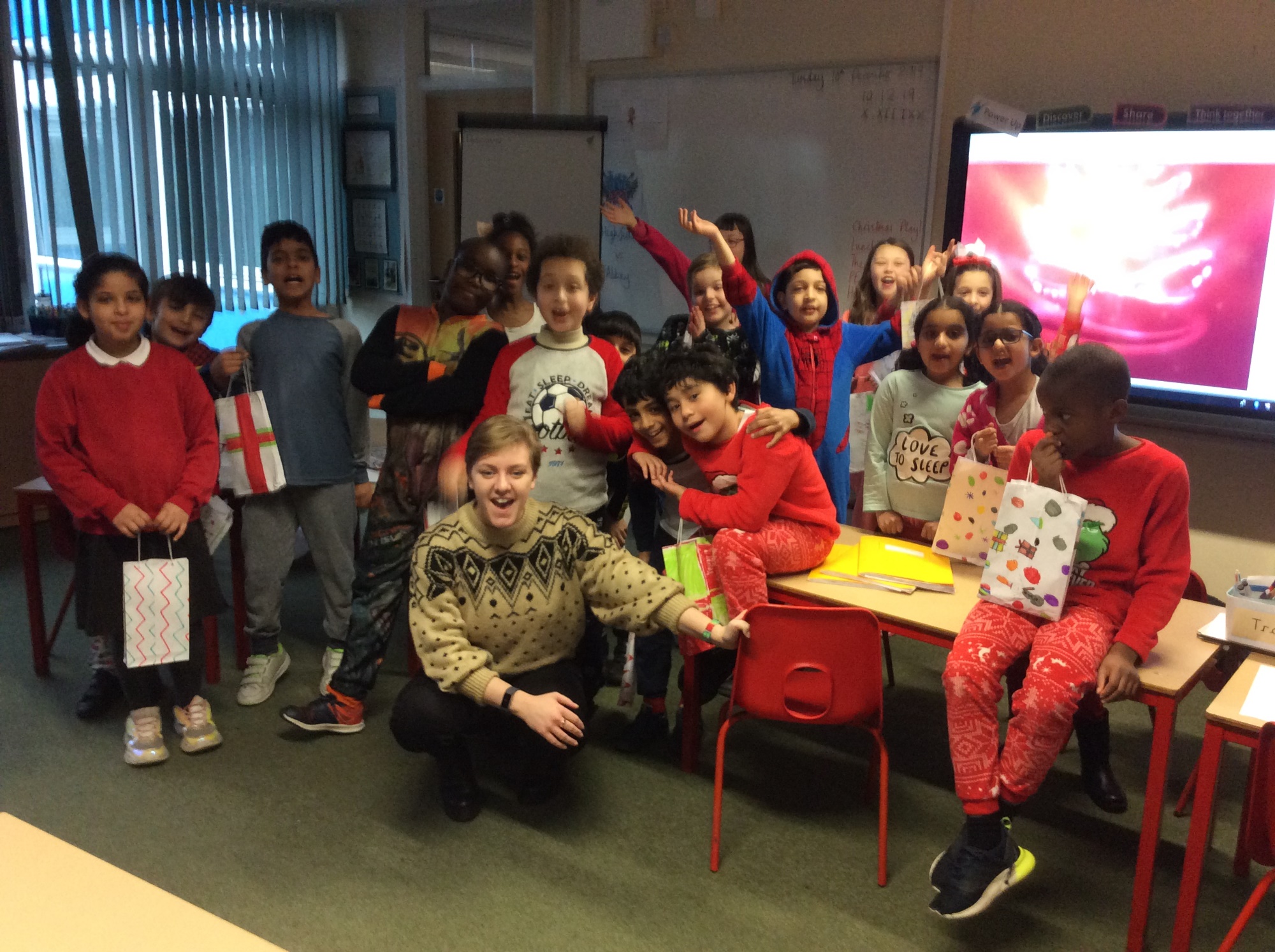 The Rehearsal Week!
This week we have been practising our Nativity play. It's been exhausting as some of us had to learn our lines and all of us had to learn where and when to stand, sit and open presents!
We have also made our own props - present bags - to take on stage with us.
Please come and see our performance that is on Tuesday 10th December.
AHHH!!! That's tomorrow at 10:30 AM!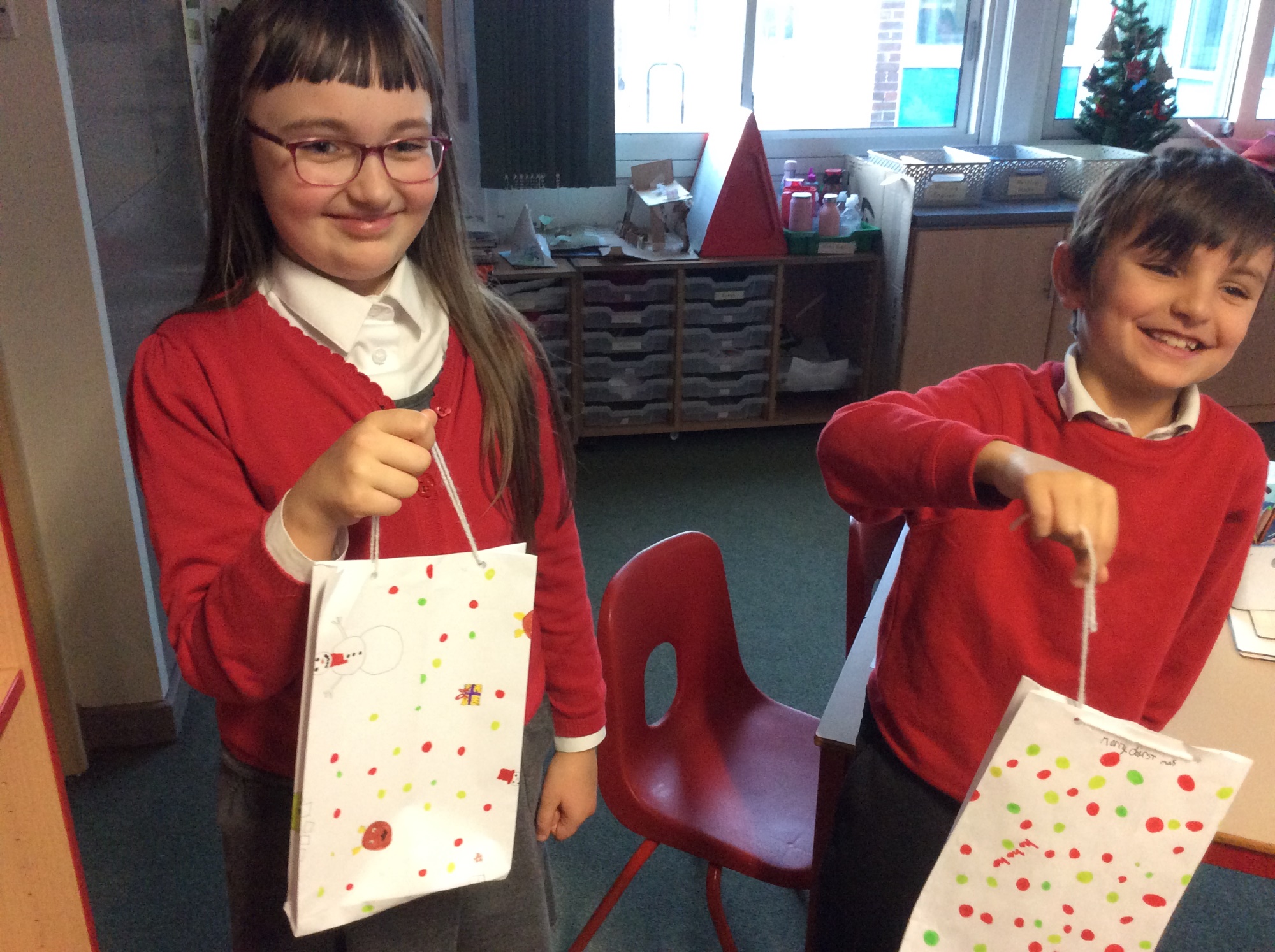 The Madrono String Orchestra Update
We have a strings lesson every fortnight and we think we are getting better and better. Check out the latest video to see how we are progressing.
Four children, two from Madrono Class, attended a two day Maths - Business and Enterprise event hosted by the Nottingham Girl's High School.
On the second day the children were joined by experts in games design from Needy Cat Games.
The girls designed and developed a prototype board game and then presented it in a 'Dragons Den style interview to the industry experts.
One of the girls said, "It was frightening and it felt like one of us was going to get fired! It was very tense but also lots of fun, at the end we felt relieved."
Another commented, "The easy bit was designing the game, the hard bit was presenting it to people who worked for Needy Cat."
Well done girls, you did a great job.
At Dunkirk we have a reward system of tokens. We get the tokens for hard work, showing empathy,being determined and problem solving. Madrono Class have been working hard on the Roman Empire, we are going to model a Roman town. We have earned lots of tokens.
This was the exciting sight that Madrono Class walked into after lunchtime today.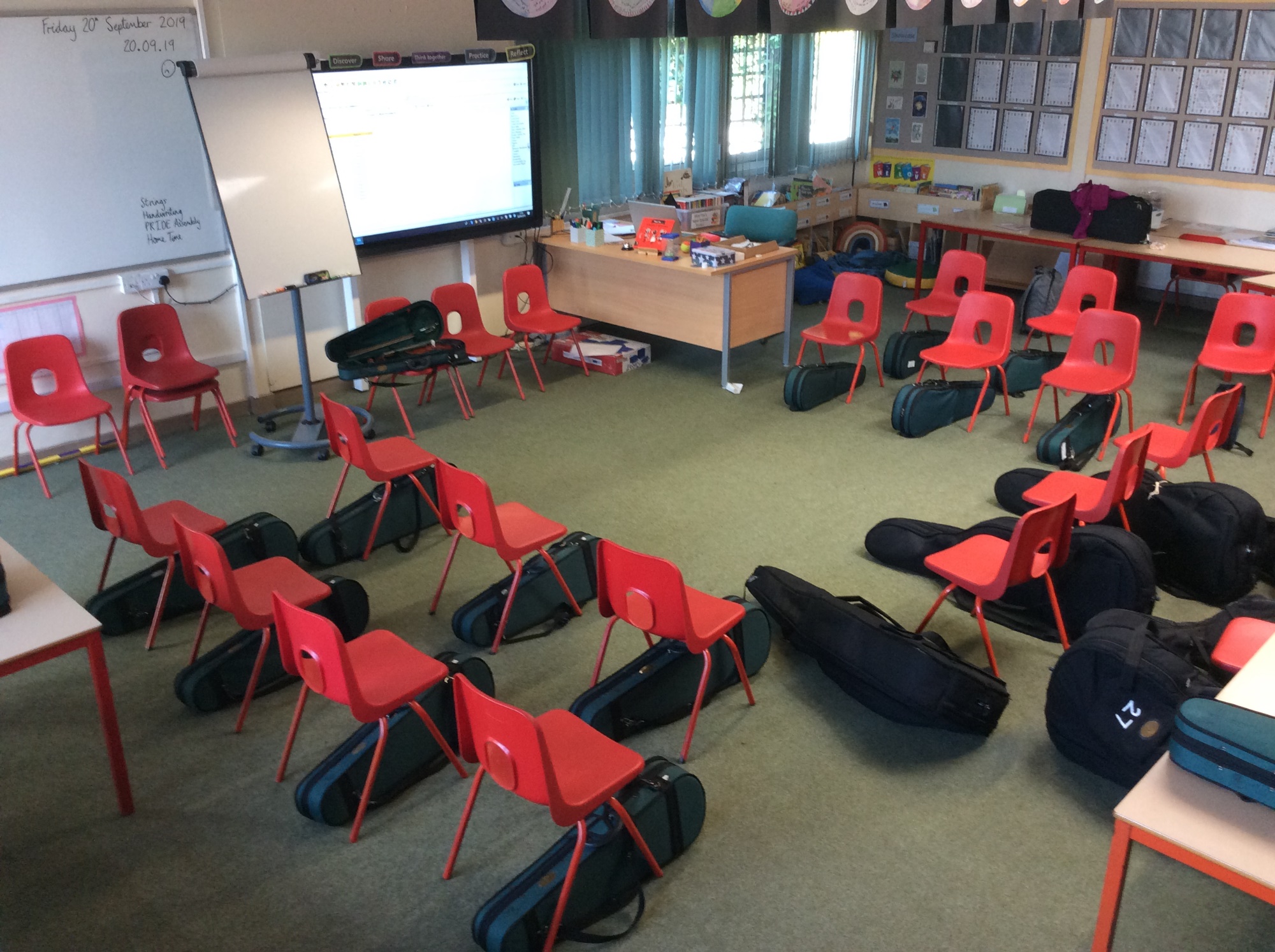 A whole classroom full of stringed instruments!
There were violins, violas and Cellos.
Have a listen to the first ever rehearsal of The Madrono string Orchestra.
This week we have been making things!
Miss Nix set us a challenge.She gave us spaghetti and marshmallows and asked us to make the tallest tower we could out of them. We had fun because the marshmallows were so sticky and the spaghetti kept breaking.
Have a look at our messy, sticky towers.
By Divine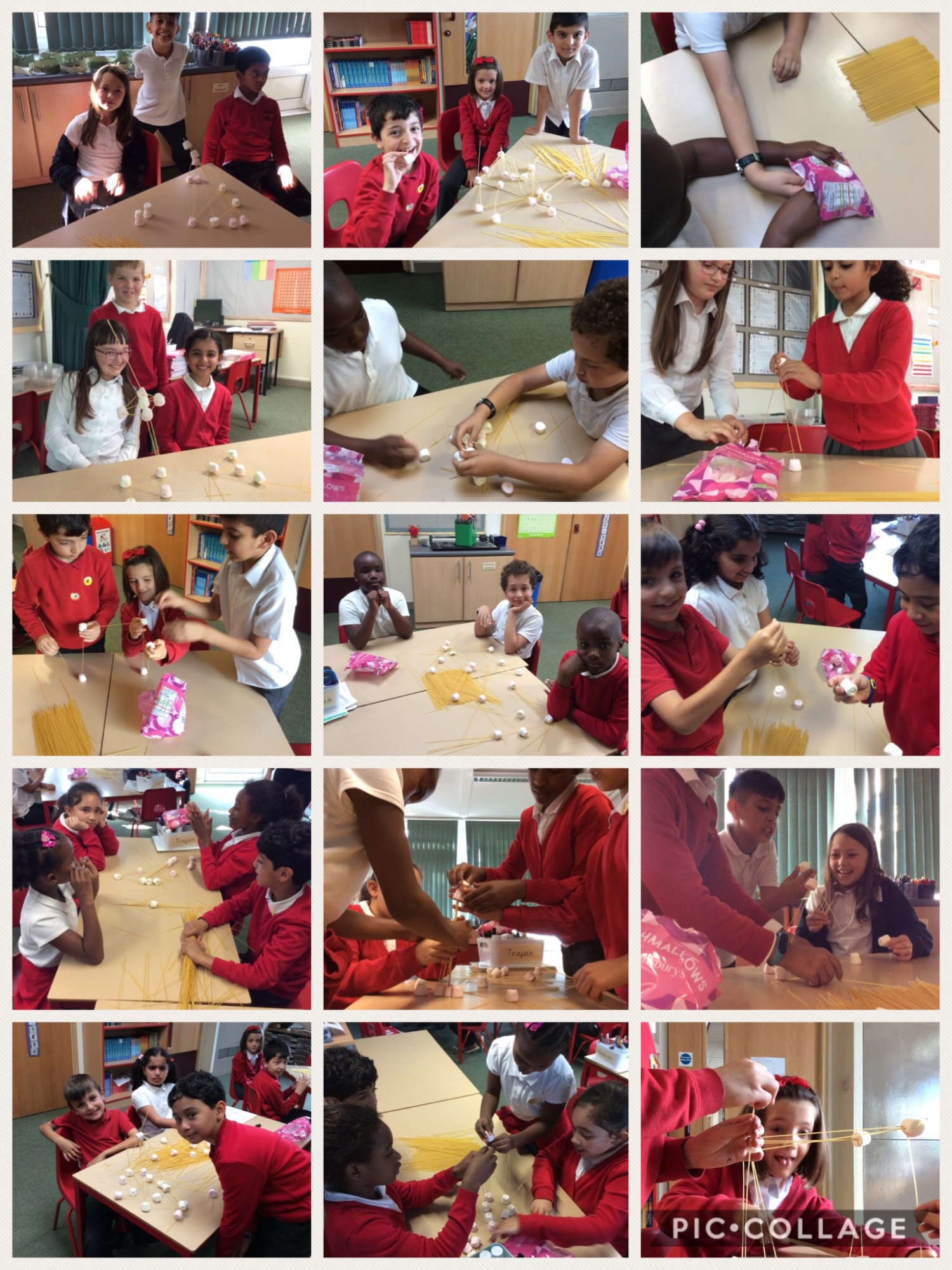 During our science lesson we made telephones out of plastic cups and string so that we could feel as well as hear the sound travelling down the string as vibrations whilst we spoke to each other.
For once we could have phones at school!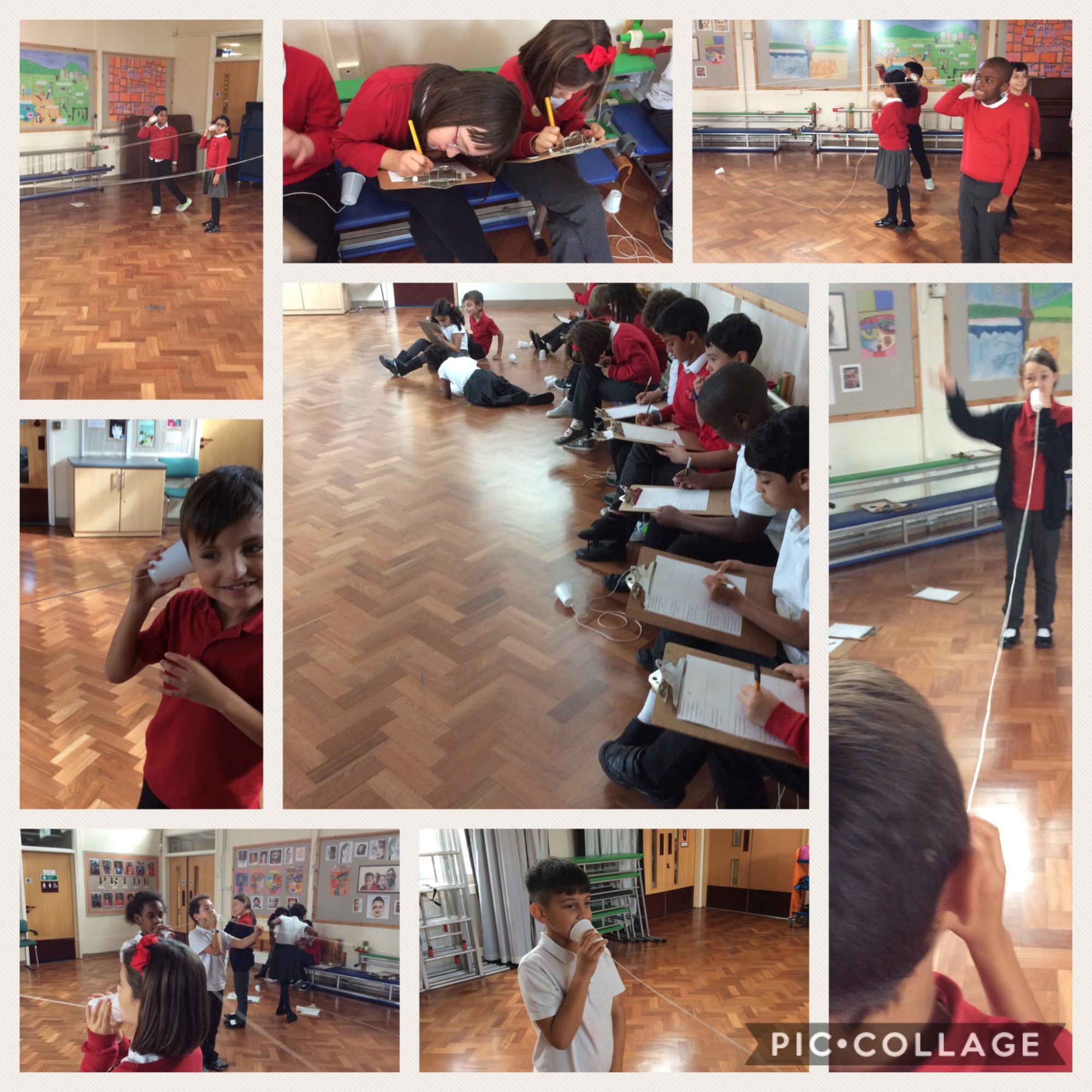 Rotten Roman Shields
This week we have been making Roman army shields. We painted them red and golden yellow and then designed handles for the back of them.
The red colour was for the Roman god Mars and the yellow lightning bolts were for the Roman god Zeus.
We have been practising marching like Roman soldiers. Dex,Sin,Dex,Sin,Dex,Sin,Dex,Sin (Latin for left and right).
We also copied two Roman army formations called The Wedge and The Tortoise. The Tortoise was better, in our opinion, because we could march easier. We found it was really hard to stay in shape during the Wedge.
If you want to see our masterpieces then have a look at our shiny shields and fantastic formations below.
Florence and Zuzanna