Class and Curriculum Information
This page is full of information about our class and the things we have been learning. The most recent information will always be at the top. If you have any questions, please don't hesitate to contact us and ask. Enjoy!
Please find our Applow planning below for the next half term... we cant wait to start the story Stick Man!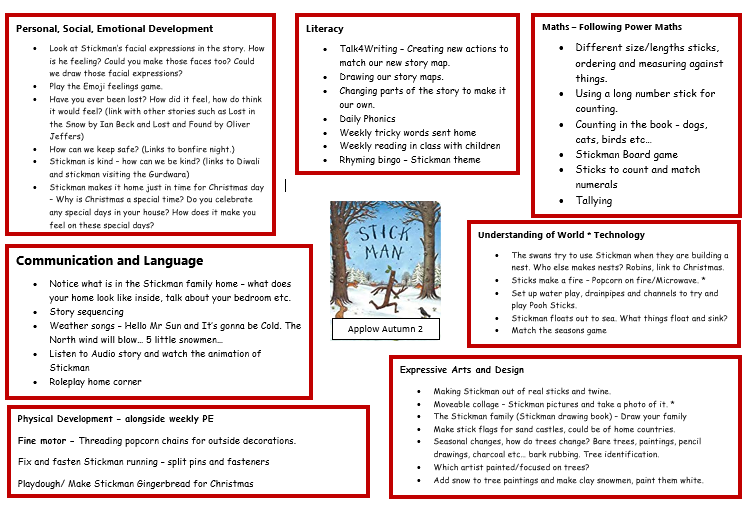 ___________________________________________________________________________________________________
Monday 5th October
Come and meet the team! We are really sorry we couldn't have the live meeting as planned, but we have recorded ourselves, going through all the information we wanted to share with you, alongside some photos from our environment. If you have any questions, please don't hesitate to contact us.
Stay safe and we will see you soon
____________________________________________________________________________________________________
Friday 2nd October
So, we know our first 8 sounds in phonics... what can we do with them? Have a look and have a go at home!
____________________________________________________________________________________________________
Monday 28th Sept
We have been working super hard in our phonics and we have now learnt 8 of our letters. We are getting very good at saying the pure sound each letter creates. Have a watch of the video below and see if your child can become the teacher and teach you the pure sounds!
Keep popping onto our website as we will be uploading more clips soon!
____________________________________________________________________________________________________
Autumn Term 1
Hello and welcome to your new school!
Our first few weeks in school will be all about getting to know one another, learning our rules and routines and getting used to our new environment. Within our building we have two classrooms, Willow and Apple, which are joined together by our shared area. We are two separate classes but we work together as one unit, so you will have the chance to make many new friends and work with lots of fantastic adults.
Apple Class
Willow Class
Each classroom has a large area for our carpet time - we come together as a class to share stories, sing songs, have our lesson inputs and have lots of fun. Around the sides of our classrooms we have created little hubs to ensure the whole curriculum can be accessed during our free flow. We having writing areas, maths areas, construction, small world, role play, nature area, science, reading corners and creative stations!
Our day:
During our exciting day, we come together on the carpet for our lesson inputs. In the morning we start with our talk4writing - this is an exciting, hands on approach to learning new stories. It helps us with our confidence, our speech and language, our understanding of story structure, our fine motor skills, or imagination and much much more!
Before lunch we break off into smaller groups for our phonics sessions. Phonics is the process of learning the sounds each letter makes to help us to be able to read and write.
After lunch we do our Power Maths sessions. Power Maths is a hands on maths scheme the whole school follows. It moves through the numbers slowly to ensure we know how to do everything we can with each number before moving on.
We also have planned in sessions of PE and Understanding of the World. We use the school hall and playground for our PE sessions, developing our gross motor skills which helps us to control our fine motor skills ready for writing. We learn how to keep fit and why it is important. With our Understanding of the World, we like to work mainly outside, using tools and learning all about the world around us. We develop our thinking skills and confidence in asking why and how questions.
Our sessions are short and sweet, to ensure the children can focus well and absorb the learning. In between each session, the children have time to access free flow. Free flow is a time where the children can choose where they learn and how they learn it. They use the different hubs within our classrooms and shared area, and learn all the important life skills of talking to friends, listening to friends, sharing, taking turns etc. Adults are on hand to play and learn along side the children, ensuring they are modelling and extending the childrens learning. If your child comes home and says 'Ive played all day!' then we have succeed in our jobs!
We are really looking forward to working with you and your child over this next year. Please remember a named water bottle, a named coat, a named pair of Wellington boots and a small bag with a change of clothes in case of any little accidents. Please make sure you name your jumpers too.
If you have any questions, please do not hesitate to contact us.
The Early Years Team