Summer Term: English Unit - Lesson 4 on 30/4/20
Summer Term: English Unit - Lesson 4 on 30/4/20: Key Features Search in Narrative (Story)
Instructions for English Lesson 4 on 30/4/20
Vocabulary warm up: Click on the video clip below - you might need your list of synonyms and antonyms from Monday.
SORRY EVERYONE - THE CLIP DIDN'T UP LOAD. LOOK OUT FOR IT ON 1/5/20.
---
Reading: Timed fluency practise - read the WAGOLL text for 1 minute. Read with fluency, speed, expression and confidence. Try to make no mistakes or hesitations.
Question: How many lines of text did you read in the minute?
---
Writing Task:
* You will need a copy of the WAGOLL text 'The Dementor's Kiss' (also below just in case you don't have it);
* Open the attachment below called 'Key Features Search grid lesson 4';
* Follow the instructions but here's a snippet of the key features I'd like you to search for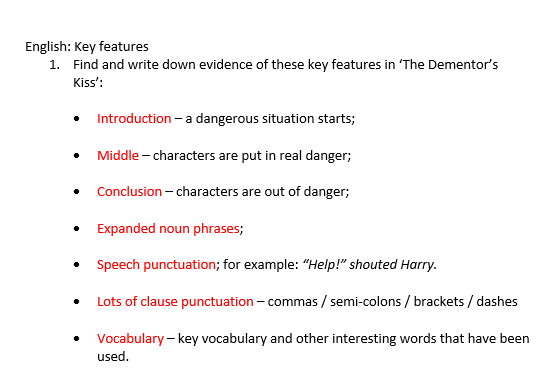 ---
Once again, Banyan class members produce wonderful examples of today's work
Well done Y and well done L