Summer Term: Maths Week 2 Lesson 1 on 27/4/20
Catch up maths: Week 2 lesson 1 Calculating scale factors AND actual maths lesson: wk com 27/4/20 Angles in quadrilaterals
---
Instructions for maths on 27/4/20
Warm up: Fluency video clip - multiplying decimal numbers:
Having watch the video clip, Y was able to multiply decimal numbers. LOOK at this amazing place value chart that he sent to me. WELL DONE Y!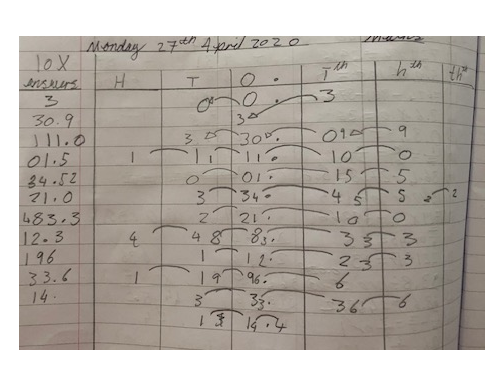 Instructions for main maths lessons
Catch up lesson: (Week 2, lesson 1, step 6) - Calculating scale factors www.whiterosemaths.com
* Watch the video tutorial;
* Get the Activity (open up the document to read the questions - write the answers in your book/on your paper). Please don't worry about printing the worksheets unless you want to/are able to;
* Get the Answers - mark your work and blue review it.
---
Actual lesson 1: (go to Summer Term week 2 w/c 27th April): Lesson 1 Angles in special quadrilaterals
* Watch the video tutorial;
* Click on 'Get the Activity';
* Click on 'Get the Answers'.
---
Let me know how you got on - please take a photo of your work and share it with me on Banyan's email.
​
​
​
​
​
​
​​
WATCH THIS SPACE - YOUR WORK COULD BE SHOWCASED HERE (BELOW):
27th April 2020 - Click on the attachments at the bottom of this page to see examples of the maths work received today.
Well done - what a wonderful start to the week.